Commercial Parking Lot Lighting Services
Bringing Light to Parking Spaces: Commercial Outdoor Lighting in Denver for Exceptional Illumination
Do you want to improve how your customers see your business? (Literally?) Make sure your commercial parking lot lighting is well-lit by upgrading the lighting system. There's nothing creepier or more dangerous than a parking lot with poor lighting. If you don't guarantee an illuminated and secure parking space, your potential customers won't even visit your business. On the other hand, quality Outdoor Lighting will leave a good first impression of your business, and you already know how vital first impressions are.
Most commercial parking lot lighting has the same problem: only a few outdated fixtures illuminate them, creating a stark contrast with newer, LED-lit parking lots. There is, however, a much more significant difference when it comes to the electric bill. Businesses don't only have a safer and more illuminated parking lot, but they also pay less for it. Our Licensed Lighting Technicians can help you create an optimum Parking Lot Lighting solution.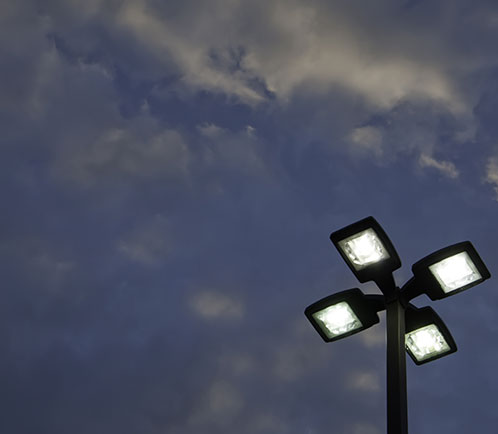 Our Outdoor Lighting Services Can Light Up Your Store Like Nobody Else!
Commercial parking lot lighting is something we specialize in, and we have been serving Denver for a long time. We get all available energy rebates and programs from the municipality, service providers, and manufacturers to save you money. You read it right: there's an immediate reduction in your energy consumption after enhancing Parking Lot Lighting with LED fixtures.
The thing our Lighting Technicians love the most about LED lighting is that it reduces energy bills by about 70% and is almost maintenance-free. Also, a recent study showed that improved parking lot lighting reduced crime by 39% in NYC. If you need a Commercial Lighting Company to provide outdoor lighting services, which include Parking Lot Lighting, get in touch with us today.
Our Commercial Parking Lot Lighting Service Includes the following:
New LED fixtures
Bulb replacement
Light pole maintenance and installation
Did you know? It's crucial to regularly inspect parking lot poles to prevent any compromise to their soundness due to weather and normal wear and tear.
Expert, licensed, and insured contractors
Commercial state-of-the-art light pole manufacturers
Light retrofitting
Troubleshoot power lines
With over 40 years of experience in commercial parking lot lighting, we are the go-to company for Denver residents. Go ahead and
give us a call before we get booked. Our Licensed Lighting Technicians will be so happy to assist you with Outdoor Lighting.
All Reach Lighting offers
Brighten Your Parking Area with our Commercial Parking Lot Lighting Services
Commercial Outdoor Lighting Company in Denver, Colorado
We pride ourselves on providing top-quality commercial parking lot lighting services that are both reliable and affordable. With our extensive experience in the commercial, industrial fields, we can handle any outdoor lighting project you have.
Serving clients across Arvada, Aurora, Boulder, Brighton, Broomfield, Castle Rock, Centennial, Colorado Springs, Commerce City, Denver, Englewood, Firestone, Fort Collins, Frederick, Golden, Greeley, Highland Ranch, Johnstown, Ken Caryl, Lafayette, Lakewood, Littleton, Longmont, Louisville, Loveland, Northglenn, Parker, Thornton, Westminster, Wheat Ridge, Windsor and the surrounding areas.