Commercial Retrofit Projects
Commercial Lighting LED Retrofit Projects
Not all lights are created equal — some bulbs shine a little brighter than the rest. For commercial spaces, few lighting systems are better than LEDs. All Reach Lighting can help illuminate your commercial spaces with brilliant new LED lightings thanks to our retrofitting services.
We Help You Retrofit Your Commercial Lighting System w/ LED Technology
As a full-service lighting company, we can create a custom lighting solution for your business or commercial spaces that can help you save money, reduce maintenance costs, and improve safety.
Audit & Assessment
All Reach Lighting is a turnkey service provider — that means we handle your commercial LED lighting retrofit from start to finish. Rather than simply selling you the LEDs and trusting you to install them (or finding a contractor to do it for you), we work with you to create a custom lighting plan, finding the right products to fit your needs, then install them for you.
We start by meeting with you and touring your facility or property. We're concerned about more than just the lights. We want to understand how you use your commercial space so we can create a lighting system that improves efficiency, effectiveness, and image, safety, and your bottom line.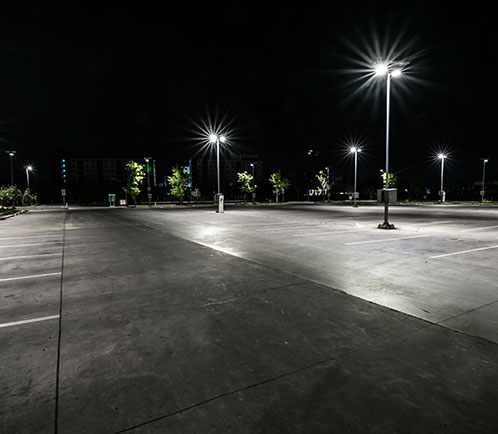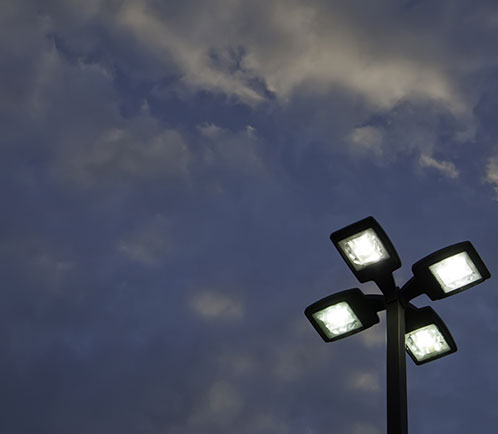 Plan & Execution
Part of your initial lighting assessment is a photometric plan (a digital survey of your site with a proposed lighting solution).
This accomplishes a variety of things early in the planning process. It ensures that local lighting codes are met, allows you to see what the final product might look like, prevents future issues related to poor lighting, and determines what kind of LED solution is needed.
After we've developed the plan, we find LED solutions that meet your lighting needs. We also consider your budget, and always connect you with products that have a potential rebate.
With the LEDs selected, our team retrofits the LED lights into your old lighting system. We set up a maintenance schedule for you so you don't have to plan it out.
Your retrofit lighting system will require less maintenance and fewer visits from us, which means more money goes back into your pocket or into the property.
LED Products
When your old lighting systems are growing dull, it's time to get an LED retrofit. A commercial LED light retrofit is the process of taking your existing fixtures that use CFL, fluorescent, or incandescent bulbs and replacing them with LED fixtures.
LEDs, or "Light Emitting Diodes" are everywhere these days, and for good reason. They're compact, energy-efficient, require little maintenance, and do a better job than traditional bulbs.
The benefits of an LED retrofit are apparent from the first time you turn them on. The quality of light from LED fixtures is incredible, as the purer light quality helps to brighten the appearance of commercial and industrial spaces.
The improved lighting quality also means improved workplace safety. In busy commercial spaces, having an LED lighting system can reduce accidents, elevate mood, and create a more efficient workplace. Brighter workplaces mean brighter employees!
LEDs are a great example of getting more for less. These fixtures are more energy-efficient than traditional fixtures and are longer-lasting. Commercial spaces that switch from traditional lighting to LEDs can save up to 60-80% on your energy costs over the course of a year.
Not only that, but LEDs require less long-term maintenance. Traditional lighting requires monthly maintenance, while LED systems are designed to go 4-5 years between maintenance visits.
Not only are LED lights bright, but they're also light on your budget too. The price of LED lighting has dropped significantly in the last few years. This makes this LED lighting more accessible to more businesses than ever before. Making the switch now allows you to reduce your energy costs and your maintenance budgets in both the near- and long term.
Why Trust All Reach Lighting
We've helped hundreds of clients around the Colorado area transition from old light technology to LED, saving them buckets of cash.
Read what our customers say about us.
Check our Commercial Lighting Before & After photos in our gallery
All Reach serves dozens of industries in Colorado, including the following:
Dining & Restaurants

Hospitality

Retail

Industrial

Manufacturing

Education

Government

Transportation

Commercial Offices

Healthcare

Municipal

Higher Education
Don't see your industry? Give us a call anyway (303) 222-1987. We serve dozens of industries across Colorado.
Use All Reach For Commercial Lighting LED Retrofits
All Reach is your single-source for LED Retrofit Lighting projects and services. We take care of you from the first call to the final walkthrough. No middleman. No outsourcing. Our team of experts earns your trust and manages your project from start to finish. We help you design a lighting vision and execute your lighting plan without you feeling lost as the GC of your own project. We take care of everything for you.
How Do I Start My Commercial LED Retrofit Project?
Fill out a form here or give us a call (303) 222-1987.
Speak with one of our friendly lighting experts.
Schedule and start your lighting project.
Start Your Project Call Us Now
Why Start Your LED Retrofit Project Now.
The money lost to deteriorating or failing lighting systems is enormous. Billions of dollars each year get wasted powering outdated lighting solutions.
Stop paying outrageous monthly repair and maintenance fees.
Leverage rewards and rebates from your local power supplier, offering financial incentives to get your project started.
Retrofit your existing interior and interior lighting solutions to save money, improve image, and increase safety.
---
---